While SSDs are rapidly becoming the standard for newer desktop and laptop computers, portable USB-powered external drives have continued to use the older mechanical spinning-platter technology. There's good reason for this: the 2.5″ drive mechanisms used in these devices are both inexpensive and capacious. What they are NOT, however, is "fast" or "appropriate for new mobile technology."
Now, with portable external solid state drives (SSD) being much cheaper than they were a few years ago and more affordable to limited-budget users, this type of external storage device is increasingly gaining popularity in the mainstream market nowadays for the outstanding reliability it offers alongside with blazing data transfer speed.
Here, on this page, we've collected the best portable external USB 3.1 SSDs on the market, based on the reviews of the most prominent data technology experts from the most pioneer technology websites, such as Tom's Hardware, Anand Tech, Extreme Tech, Storage Review and others.
The criteria to determine the best portable external SSD
First of all, let's be crystal clear. Our policy on this website is to provide to our readers the best products in the market, and we are already aware that our sole verdict on a particular external SSD doesn't add much to the value/rank of it. Therefore, we have decided to follow special criteria in the pursuit of determining the best drives for our readers, based on the following steps:
We only pick the newest portable external SSDs that implement the latest data technologies. This way we make sure the drive is the most advanced and powerful as of today.
The drive must belong to a renowned and highly-reputable manufacturer in the industry. By this we ensure the drive was designed and produced by experts with deep and solid experience.
Performance is our top priority and most important factor. Security & encryption, design, price and availability come after.
We go read the reviews on the specified drive published by the most prominent IT professionals (such as Tom's Hardware, TweakTown, Benchmark Reviews.. etc) who thoroughly reviewed and tested the particular drive and published their detailed reports on it.
We balance between the different opinions on the same drive, and we try our best to give an honest and unbiased judgement.
We place the particular drive on its relevant position in our recommendation list. And for the top two positions, we have added the testimonials of IT Professionals in their "Quick Review" section.
Based on our readings and researches on each drive's reviews, we justify our selections with a short report that compares between the top two drives and proves the rectitude of our decision.
Summarized report on our top 5 winners
Following our criteria for choosing the best portable external SSD on the market as of today, we can boil down our findings as follows:
Based on our researches, we could find only 5 drives that conforms to our standards, and we listed them in a descending order starting from the best-performer on the top position.
According to Tom's Hardware, the most important test that determines the superiority of an external storage device is the file transfer speed where our top winner excels in all of its aspects. Whereas some IT professionals, like Tweak Town put the sequential performance on top priority, therefore they voted for another winner (which is the 2nd in our list).
Both top two winners feature two SSDs configured in RAID-0 for the highest possible performance. Whereas the other items in the list feature only one SSD.
As far as design is concerned, Our top winner utilizes 1.8-inch form factor SSDs which significantly adds to its portability, while the 2nd winner utilizes 2.5-inch SSD, which is too large to be a portable drive according to the modern standards.
The third item in our list (Samsung T3 Portable SSD), although utilizing USB 3.1

Gen 1

, it's the fastest single-drive external SSD on the market as of today with a very compact design.
File Transfer Speed Test Results
Tom's Hardware, which is one of the most prominent and pioneer computer hardware lab-tester and reviewer, stated that the most important factor to consider when judging the performance of an external storage device is the file transfer rate.
On their review on MyDigitalSSD BOOST Portable SSD, the reviewer stated:
We don't run many synthetic tests on external or portable storage products because the typical workload is sequential in nature. Even though it is possible, users don't run operating systems on these drives. The typical use case is very basic. Most of us simply read and write large pieces of data for archiving or transferring from one location to another.

We often see performance measured in throughput, but most people would rarely say, "Wow, that transfer was really fast—I bet it was doing at least 150 MB/s." Time-based results are easier to interpret because the sense of time is universal.
And the three tests results are outlined in the charts below:
It's rare for one drive to win all three real-world file transfer tests. To date, the MyDigitalSSD Boost is the only model to accomplish this achievement.
Our top-notch Portable External SSD List
Below are the top-rated portable external solid state drives that gained the admiration and recommendation of IT professionals. Our winner in this list is MyDigitalSSD BOOST Portable SSD for the high performance it offers, alongside with the nice and compact design that fits into any pocket.
We have picked only the newest external SSDs that are configured with USB 3.1 (1st & 2nd gen) and seconded with 3-year limited warranty.
Make sure to click the "quick review" button in order to find more details on the particular product you select.
Name
Capacity
Interface
Warranty
Details

1.

MyDigitalSSD BOOST
1tb
USB 3.1 (Gen 2)
3 Year
Quick Review

2.

SanDisk Extreme 900
480gb – 1.92tb
USB 3.1 (Gen 2)
3 Year
Quick Review

3.

Samsung T3
250gb – 2tb
USB 3.1 (Gen 1)
3 Year
Quick Review

4.

G-Technology G-DRIVE slim
1tb
USB 3.1 (Gen 2)
3 Year
Quick Review

5.

ADATA SE730
250gb
USB 3.1 (Gen 2)
3 Year
Quick Review
---
External SSD Quick Review Section
Here we lay out a short review for each item in our top-recommendation list. Each review contains the basic features of the particular product, the performance test results, alongside with the testimonials and awards of the prominent IT professionals who reviewed it.
MyDigitalSSD BOOST USB 3.1 Gen 2 Portable SSD
The MyDigitalDiscount BOOST 1TB SSD is a bold step forwards for external USB drives: its combination of two mSATA SSDs in RAID 0 combined with USB SuperSpeed+ support turned in the best sequential data transfer scores we've ever seen from a non-PCIE drive.
The clever design with an upgradeable interior and freedom of choice when it comes to the RAID setup gives the Boost another boost in regards to the value. It's already a very cheap drive in itself and especially when we consider the performance that it brings along – but you also get upgrade-ability on top of that and that's just awesome.
The MyDigitalSSD Boost is an excellent product if you require high-performance portable storage. It's not as refined as the Samsung T3 or as rugged as the Adata SD700, but it's faster than both and is a better value. The Boost is what I would call a purse or backpack-sized portable SSD. It's not something you want to carry in the pocket of your jeans. It's just a little too large for that, but it will fit in a coat or jacket pocket.
The Boost is a storage product and not a backup-focused drive that ships with automation software. You can purchase backup software or use the Microsoft tools built into Windows. Some portable SSDs come with advanced software for backup, encryption, and other bells and whistles. The Boost doesn't ship with those, so keep that in mind if your needs go beyond the tools built into your operating system.
Feature Highlights
USB 3.1 SuperSpeed Plus (SSP)
UASP Support
Durable Compact Design
Bus-Powered
Plug and Play
Includes two 18-inch USB Cables
Improve Xbox One and Steam game performance with faster load times
Quick access to your favorite movies, music, photos, and more at home or on the go
Durable and reliable backup storage
Testimonials & Awards
It's rare for one drive to win all three real-world file transfer tests. To date, the MyDigitalSSD Boost is the only model to accomplish this achievement.
The MyDigitalSSD Boost delivers the highest read and write performance across the full LBA range with 128KB sequential blocks.

The MyDigitalSSD Boost is the fastest portable SSD we've tested to date

. The drive uses off-the-shelf components in a brilliant way to deliver the best experience. We really like the option to use Samsung flash or the DIY model so you can roll your own. The 1TB model offers superior value and is the lowest priced 1TB portable SSD on the market.
Tom's Hardware (Feb 2017)
MyDigitalSSD has retaken the crown as the best performing external solid state drive once again. The portable Boost drive shows us that portability doesn't need to come at the sacrifice of neither speed nor capacity. With 1TB capacity and a performance of over 800MB/s, the Boost is a clear winner.
eTeknix (Dec 2016)
At $262.12, the MyDigitalSSD BOOST is your best choice today for an external SSD.
Benchmark Reviews (Dec 2016)
---
SanDisk Extreme 900 Portable SSD
The new SanDisk Extreme 900 Portable SSD is a much larger, slightly more expensive version of the Samsung Portable SSD T3. It's extremely fast, supports USB 3.1 and includes a USB-C port. And with two included USB cables (one for USB-C and one for the regular USB port) it's ready to work with existing and future host devices.
SanDisk's Extreme 900 Portable SSD provides lots of capacity and high-performance flash-based storage for working professionals on the go. The series is also one of the first to utilize USB 3.1 Gen 2 for faster file transfers. It's formatted in universally readable/writable exFAT (so it can be used with any device that can deal with USB mass storage and it will work right away with both Windows and Mac computers), and preloaded with security software. Once installed, the software can protect data stored on the drive with 128-bit AES encryption. Keep in mind, however, that if you turn on the protection and somehow forget the password, you will permanently lose access to your data.
Feature Highlights
Seriously fast portable storage for high-res photos, videos and graphics-intense files
Up to 9x the speed of an external hard drive. For Mac compatibility this Hard Drive requires reformatting.
Up to 1.92TB of SSD-speed storage that's small enough to take with you
Durable aluminum and rubber design with shock-resistant solid state core
SanDisk Secure Access encrypts private files. 3-year limited warranty
Testimonials & Awards
If the Extreme 900 isn't exactly cheap, it delivers excellent performance, capacity, and a little extra durability and security for a good per-gigabyte value. That's why it's our Editors' Choice for anyone who needs a little more than the bare minimum from an SSD.
PCMag (Nov 2016)
SanDisk's Extreme 900 has all of the ingredients to be the best external SSD on the market including top notch performance and capacity, coupled with a three-year warranty and price per GB at 41 cents.
TweakTown (Mar 2016)
---
Samsung T3 Portable External SSD
The Samsung Portable SSD T3 is the second generation of Samsung's ultra-compact but high-performance line of portable SSDs. All of the drives in the family feature the same enclosure, a USB 3.1 interface and are outfitted with a Samsung controller and 3D V-NAND Flash memory, similar to the SSD 850 EVO. Samsung rates the drives for speeds "up to 450MB/sec", which puts performance in-line with some internal SATA solid state drives, and much higher than many external storage solutions.
With the Portable SSD T3, Samsung has gone ahead and stuffed its TLC V-NAND into a tiny, pocketable chassis. Following in the footsteps of its previous portable SSD, the T1, the T3 comes in 250GB, 500GB, and 1TB capacities. However, it also paves new ground with a whopping 2TB version at the top of the line.
The T3 is also enterprise/security friendly. You can password-protect it with full 256-bit AES encryption, which is now optional, and not full-time as with the T1. Said password is set via a utility provided with the drive, or with an Android app. There's no FIPS 140 certification because there is relatively easy access to the hardware, but it's as secure as can be short of that.
Feature Highlights
Portable Design with Internal SSD-level Performance
Superfast Read-Write Speeds of up to 450 MB/s.
Shock Resistant & Secure Encryption
Compatible with PC, Mac, & Android OS
---
G-Technology G-Drive Slim SSD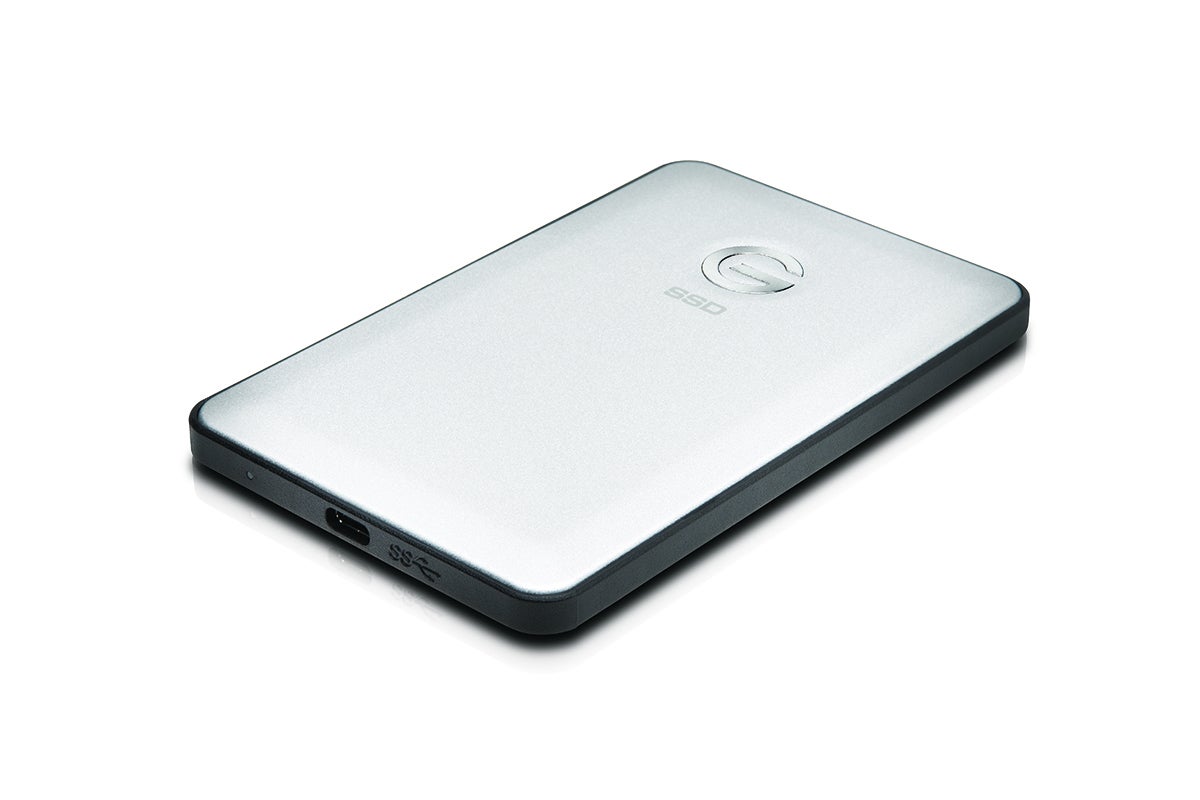 The G-Technology G-Drive slim SSD USB-C is an attractive solid-state drive (SSD) with decent performance and capacity, and it comes at a reasonable price. That said, the slim is rather bare-bones when it comes to additional features.
The Slim USB-C is one of the latest solutions from G-Technology while also serving as what I believe is their first USB 3.1 Gen 2 solution. This enables 10 Gb/s connectivity to the device for full performance to the end-user. Capacity options include a 500GB solution that was sent to us for testing and a larger 1TB model. Marketing performance comes in at 540 MB/s for this solution while being compatible with both OS X and Windows platforms.
The G-Drive Slim SSD is warrantied for three years. That's at least a year longer than for most USB hard drives, albeit standard for an SSD. Unusually, G-Technology doesn't provide a TBW (terabytes written) rating for the G-Drive Slim SSD. Most SSDs are rated to cover around 10 years of normal usage.
Feature Highlights
Available in two capacities—500GB and 1TB
Superfast Read-Write Speeds of up to 540 MB/s.
Compatible with PC, Mac, & Android OS
---
ADATA SE730 Portable SSD
The ADATA SE730 external SSD is available in a 250GB capacity and is constructed of a rugged gold brushed aluminum with black plastic end caps. Because of its construction, it is waterproof, dustproof and shockproof to MIL-STD-810G 516.6 standard. It contains a USB 3.1 Gen 2 Type-C interface with a cable that attaches to the PC via a regular USB adapter.
The SE730 is rated IP68 for being dustproof and waterproof (so long as it's only submerged 1.5 meters for an hour), and it's military-grade shockproof. Additionally, the drive can operate in temperatures between 41° and 122° F. This should come in handy if you're clumsy or accident-prone, or if you need to frequently use an external drive on the go or in the field.
Feature Highlights
USB 3.1 Gen 2 Type-C interface for ultra-fast read-write speed of up to 500 MB/s
Light weight and portable external solid state drive (SSD) – just 33g (1.1oz)
Secure Portable SSD Design with IP68 water/dust-proof & MIL-STD-810G 516.6 shockproof certification.
Compatible with PC, Mac, Linux, and Android OS
3-year limited Warranty
---
A Quick Primer to the External SSD World
This section is aimed at novices who are totally new to the world of external solid state drives. If you already know what an external SSD is and its advantages, there's no need at all to continue reading.
What an External SSD is
An external SSD is simply as the name indicates: A solid-State Drive (SSD) crammed inside an external hard drive enclosure and connects externally with the computing device (whether it's a PC, MAC, Tablet, or even a smart phone). The external connection can be made via a wire or through a wireless network.
Being huge fans of fast USB 3.0 SSDs, it's a given that we'd like a faster USB 3.1 model such as the G-Technology G-Drive Slim SSD even more. Laying claim to being the quickest USB 3.1 Gen 2 drive in the world, this solution fell just short of the SanDisk Extreme 900 1.92TB model I tested, but if capacities were even, I'd say it could very well be true. Going for a solid state external hard drive will significanly cut down on the huge file transfer speed. A portable hard disk is all well and good, but their slow speed and vulnerability to drops makes them a liability. At the centre of the Boost SSD, beats an ASMedia ASM1352R controller which has been coupled with TLC NAND. Our SSD coverage is typically geared towards drives for the system builder, but today we've got a welcome break from tearing down another 2.5″ SATA drive.
The history of Portable External SSD
The idea of designing an external solid state hard drive was actually brought up with the first release of consumer-grade SSDs. However, the 10Gb/s connection isn't without its drawbacks, which came in the form of much lower scores in random access and I/O operations per second. Samsung's portable SSDs bridge the gap between a small, throwaway USB flash drive — usually with a tiny storage capacity — and a larger portable USB hard drive. Both have a micro USB-B connector on the device side and a USB Type-C or Type-A on the other end. A solid state external hard drive can be the best external data storage solution to many users whose main concern is the transfer speed of their large files. The new Samsung T3 and its predecessor, the T1, are the handiest and fastest USB SSDs on the market. If none of that wins your heart, then MyDigitalSSD is set to win your vote with cost as this solution is easily the cheapest, quickest 1TB USB 3.1 Gen 2 device on the market, with an MSRP of $279.99 and a three-year warranty.
Assembling an external SSD hard drive
G-Technology is one of only a handful of vendors that is directly linked to facilities that create or have their hands in the manufacture of either HDDs or SSDs. In fact, there isn't just a single drive inside the Boost, there are in fact two and that's what makes it so much faster than the competition. There's more than a passing familial resemblance between the G-Drive slim SSD$379.95 at Amazon and G-Technology's G-Drive mobile USB-C$109.99 at Best Buy. You can assemble an external SSD drive yourself by just getting any SSD and incorporate it inside any relevant hard drive enclosure, and you'll be done. As you can see, with a SuperSpeed+ connection, linear transfer performance increases dramatically, by 50% or more, in most benchmarks. Flash-based external direct-attached storage (DAS) devices have been rapidly evolving over the last few years.
32-layer TLC V-NAND, but, 32 dies per package instead of the 16-die ones used in the 850 EVO SATA SSDs
32-layer TLC V-NAND, 16 dies per package, but, 256 Gb dies instead of the 128 Gb ones used in the 850 EVO SATA SSDs
48-layer TLC V-NAND, 16 dies per package with 256 Gb dies
Formatting an external SSD
Pricing is fairly straightforward for the two options. Portable SSDs are rather plentiful in the market with many vendors taking part, but the cost of these solutions hasn't reflected the near 0.50 cent per GB the market has been at for a while now. Usually any external SSD comes pre-formatted to the extent that you don't need to do anything in this regard. The drive is easy to take apart thanks to the default screws used and MyDigitalSSD isn't trying to hide the inside workings as others might. Adata's SE730 is a brand new portable SSD which combines the best of all worlds: it's one of the smallest we've seen, it's waterproof and it has blistering speed with which few of its rivals can compete."An external SSD that can beat Samsung T3," read the title of an email that I recently received. On the other hand, tests that pile on queued, random transfers see a dramatic drop in performance (note that on the Crystal Diskmark and ATTO tests, the sequential performance still improved, although we're only looking at the random performance here). This is probably due to the fact that the controllers on the Samsung SSDs are sitting "behind" an mSATAUSB bridge chip.
Backup your data to an external SSD
One look at the ADATA SE730 External SSD, and you can tell: This is the future of the storage that you'll carry around. The diskless Boost currently retails for $49.99 at Amazon. To delete, or not to delete? They are proud of their drives and they don't mind showing it off. An external SSD shines while transferring data from your computer to it, and this is the most significant feature any external storage device must take care of. This poor random performance would concern me for an internal drive that the OS was installed on, but I think it's no big deal for an external drive, which will most likely be used for backup and large data transfer tasks– and in these cases it will provide exceptional performance.
Size
128 GB
256 GB
512 GB
Controller
Marvell 88SS1074B1 (?)
NAND
Toshiba 15 nm Toggle TLC
DRAM Cache
256 MB (?)
512 MB (?)
1 GB (?)
Sequential Read
550 MB/s
Sequential Write
500 MB/s
Interface
Physical
USB Type-C receptacle
Logical
USB 3.1 Gen 2
Transfer Rate
10 Gbps
Compatibility
Backwards compatible with previous-gen USB standards
and connectors using adapters
Command Set
TRIM, S.M.A.R.T., NCQ, ATA/ATAPI-8
OS Compatibility
Apple macOS, Google Android, Microsoft Windows, Linux
Security
Fnet encryption software
Dimensions
101.2 × 31.6 × 8.7 mm
3.98 × 1.24 × 0.34 inches
Weight
30 grams
Apparance
Silver color and Gold color enclosure made of anodized aluminum
Accessories
USB 3.1 Type-C to Type-A cable
Flannel Bag
Warranty
5 years
Partitioning the drive before use
Small flash drives are similarly vulnerable, and have the added disadvantage of being incredibly easy to lose. The backup time for 1GB file shouldn't exceed 30 seconds on an external SSD. The loaded 1TB Boost is the lowest-priced portable SSD listed at Amazon. You don't need to partition the external SSD in order to backup your files, but sometimes it is recommended. Samsung's 850 EVO SSD has enjoyed widespread success since its introduction a while back, but the company isn't resting on its laurels. A trend that we also saw on the portable OTG drive that I reviewed some time ago.
The T3 is compatible across multiple operating systems, so you can conveniently connect it to PCs, Android devices and more*. With the "Samsung Portable SSD" Android application, USB 3.1 Type-C connection port and the USB Type-C to Type A cable, users can conveniently manage and access content.
External SSDs for Mac and iMac
Choosing an external SSD fro your Mac or iMac in 2017 is something you have to be careful about.To date, the MyDigitalSSD Boost is the only model to accomplish this achievement. Most obviously, performance—which is at least three-fold faster. Mac and iMac support USB 3.1 Gen2 and if you want to get an external SSD for one of them, you must make sure it supports that type of connectivity. It makes us wonder why Samsung didn't produce a high-performance portable SSD with RAID instead of focusing on a compact design. The T3 is an impressively small and lightweight piece of kit. Could it really be that easy?
Best external SSD for Mac
Finding the best external SSD for Mac is not a hard mission, you just need to see what IT professionals testified on the drive you're going to buy. It's so small I'd almost be worried about losing it if I were carrying it around town with me. MyDigitalSSD designed an aluminum box with a fairly standard bridge chip, loaded it with mainstream SSDs and walks away with the fastest portable SSD for Mac on the market. Any USB 3.0 or 3.1 device will be able to use the T3 on Mac to its fullest potential. Apparently, it was just that easy. Like record seekers on the Bonneville salt flats, we've acquired a need for more speed.
As a DIY enthusiast, I have to commend MyDigitalSSD for releasing the Boost as both a fully developed and bring-your-own-disk device. Mac will significantly benefit from the fastest external SSD you connect to it. Packaging includes an image of the G-Drive on the front with capacity listed at the top and connectivity at the bottom. It's important not to overlook the value of the loaded Boost 1TB. Just make sure the external SSD is compatible with Mac system before you buy it. That can be particularly helpful if you primarily work off of a system that has limited local storage. At the time of writing, it's the lowest priced 1TB-class portable SSD at both Newegg and Amazon.
Best External SSD for iMac
As for using an external SSD on iMac, there are a few things to bear in mind before taking this step. This brand has been catering to the storage demands of content creators for multimedia acquisition, editing and distribution. External SSDs for iMac can be very helpful in terms of data transfer rate, but you have first o prepare your iMac to host the new external SSD. It ships with older but effective Samsung 3-bit per cell (TLC) planar NAND, but it's still higher quality than what we've seen on many of the new portable SSD products. The MSRP of the 250GB ADATA SE730 portable SSD comes in at $139.99 with a three-year warranty. Yes, iMac does support USB 3.0 and any external SSD should support that connectivity if you want to use it wih iMac. Samsung has a large flash technology lead, so moving back a generation is still a step forward compared to many of the other portable SSDs we've examined. This is the latest USB standard, capable of up to 10Gb/s (1250MB/s). That's the theoretical speed, of course, and Adata claims up to 550MB/s from the SE730, which employs MLC NAND flash – higher quality than many drives which use TLC.
External SSD vs External HDD
Both carry a three-year warranty. We last looked at portable solutions from ADATA at the beginning of the year with the HD720, and with their last portable SSD way back in 2013. More to that in a little bit, first it's time to see just what is inside the Boost. The one snag is price. Even if your computer only supports USB 3 Gen 1 at 5Gb/s, the BOOST offers the same performance as the Samsung for less money in this capacity. Curious, of course, I investigated further to find that ADATA was behind the bold claim. MyDigitalSSD already loaded our drive with two Samsung SSDs, so the screws were already in place. We all know that most portable storage, eventually, will be solid-state (that is, not a spinning drive), and as a result, speedy and tiny. We see a relatively simple system once we have taken all parts apart from each other with a large controller PCB, and two small SATA SSDs. Thanks to external drives, this has been an obsolete question for some time. MyDigitalDiscount trims costs by saving on retail packaging (as shown below), and not including any utility software or documentation. We're also guessing that Mac users will like the drive—its thin, 0.4-inch profile and aluminum/Space Gray styling make it look very much at home next to any Apple product. The DIY model ships with the screws and a small screwdriver in a bag.
An SSD would have a much higher performance for small read/writes. That is the ideal scenario for their top performance.
The most recent studies seem to show that there is not a large difference in reliability between SSDs and HDDs. Tom's Hardware has a study on SSD reliability that shows that SSDs "aren't an order of magnitude more reliable than hard drives."
The considerations between external HDD and SSD are storage size and price. You can get multiple terabytes nowadays for the price of a midsize SSD. So if speed beats price and size for you, buy an SSD.
The advantages of external solid state drives
The new T3 really is the best of both worlds, and brings the luxury of high-speed USB Type-C too, but you'll pay a hefty premium for it. If you're a content creator, say, with a few hundred gigabytes of 4K video to move around, the BOOST is so much better than the next best solution that there's really no choice at all. Going for a solid state external hard drive can totally change your mind about the process of backup files when you see the incredibly high transfer rate between your computer and the external SSD. Indeed, the T1 I've been using for the last year or so has saved me so much time moving data from PC to PC and installing software, I don't know what I'd do without it (other than waste a lot of time). It's far faster than anything else I've tried, and the thin, wide profile doesn't make a lump in the pocket like the average thumb drive does. It currently sells for $279.99.
Last Words
HGST, the parent company of G-Drive, also happens to be part of the Western Digital brand which in turn now owns SanDisk. Not only does it allow us a peek inside, it also allows us to upgrade the actual SSDs in the future when 1TB might be too little. Finding the best portable external hard drive is not that difficult, but you need to be careful reading the many reviews of experts in order to find it yourself. They both have shells made of the same beveled aluminum, and feature the same general design. While the BOOST is much more expensive than a terabyte-size ISB hard drive, it's still not that expensive: its $262.12 price tag is very competitive with slower internal SATA SSDs, and anywhere from $60 to $100 less expensive than the Samsung T3 in 1TB capacity. The emergence of USB 3.1 Gen 2 Type-C has led to external peripherals adopting it for the host interface.